Discover more from Sharon's Anti-Racism Newsletter
The must-read newsletter for anyone committed to anti-racism looking to get insights, resources, and tools to help you do the work and make an impact. Brought to you by anti-racism activist, writer, and educator Sharon Hurley Hall.
Over 5,000 subscribers
Hello friends,
Back in 2021 I published a list of anti-racism resources. That article is one of the most searched in this publication, especially for the wheel of privilege illustration. In fact, I often go back to it as a quick way to get tools for some of the work I do.
In the last few months, I've come across a few more resources worth highlighting, including an update to the wheel of privilege. Let's dive in …
This version of the Wheel of Privilege adds some more areas of privilege that weren't in the original, making it an even more useful tool. We've been using the original in some of the workshops we run at Mission Equality and will likely use this version in future. It's a great way to get a conversation going.
DEI isn't easy, just as anti-racism activism isn't. Doing this emotional and sometimes traumatic work can lead to burnout. Use this tool to assess where you are, or where the practitioners in your organisation are and take step to look after your/their health and mental wellbeing.
Anti-racism is at the foundation of much of the work I do, both through my publications and through Mission Equality, and there's a reason why. This graphic from clinspych_ind captures some of the nuance.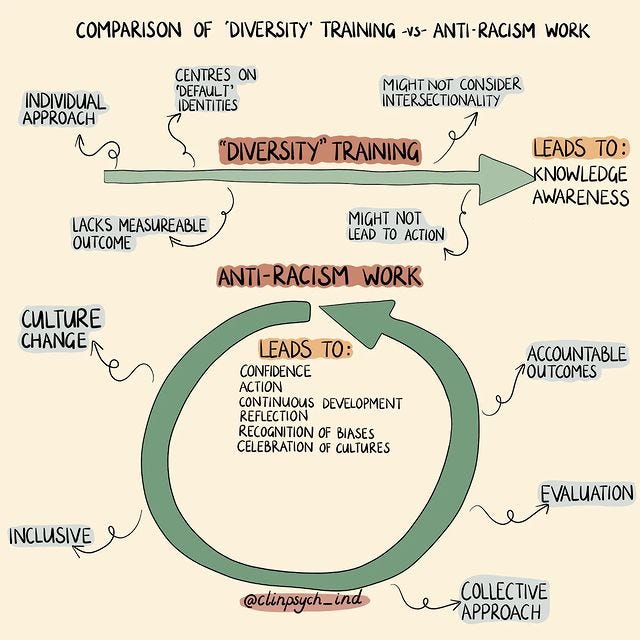 For all those who say name calling isn't a problem, this graphic shows how these things can escalate. We've seen it happen already and should be aware.
Up-to-date stats on UK workplace experiences of racism? Yes, please, though of course, it's not surprising at all. Bottom line, it's a growing problem. Sigh.
Remember the work of Chidiebere Ibe? This resource goes even further in building a database of how medical conditions present in those with Black and Brown skin. I see this as fighting medical racism, which is why it's included here.
Now, over to you. What resources have you found most useful in your DEI and anti-racism work?
Thanks for reading,
Sharon
Update: Wouldn't you know it, just after I published this, I saw another cool version of the wheel of privilege.
© Sharon Hurley Hall, 2023. All Rights Reserved.
I am an anti-racism writer, educator and activist, Co-Founder of Mission Equality the author of "I'm Tired of Racism", and co-host of The Introvert Sisters podcast.